ISODA Concludes 10th Edition of TechSummit in Baku
Swaminathan B
The Infotech Software Dealers Association (ISODA) recently concluded the 10thedition of 'TechSummit' in Baku, the capital and commercial hub of Azerbaijan, in February 2020.
TechSummit is ISODA's Marquee event where software manufacturers, distributors and partners meet to architect new alliances and surge ahead in the quest for exponentially growing business, creating a successful digital economy.
This year's theme titled: 'TSX', witnessed participation from across the country and offered opportunities for sponsors to present their products and solutions. Tripwire was the Gold Sponsor for the event.
The sponsorship categories and participating sponsors were as follows:
Gold Sponsor Tripwire
Silver Sponsors A10 Networks
Carbonite
ESET
Extreme Networks
Sophos
Soti
TeamViewer
Zoho
Startup Sponsor Parablu
Connect Sponsors Crayon
CoSoSys
Radware
RAH Infotech
Rapid7
Shivaami Cloud Services
Member Sponsors AntMyERP
Apical Impex
Choice Solutions
Professional Softec – Computax
Enjay IT
IT Simple
ACPL – Klassify
Sponsorship Support Satcom
Technobind
This time, there were a record 25 sponsors including seven ISODA member sponsors. The presentations of the sponsors were very well received because of instructions beforehand to keep the presentations non-technical and away from the products. This time, the advice to all the presenters was to focus on use-cases rather than product features.
The sponsors got to interact with Deputy Minister Transport, Communications and High Technologies, Republic of Azerbaijan Almir Velizadeh and Ambassador to Azerbaijan B Vanlalvawna (Government of India) at the inauguration ceremony.
The dignitaries presented their vision for Azerbaijan and invited the ISODA community to work closely on developing their country even further.
The two day event offered a huge platform for discussion, growth prospects and opportunities for all members. The feedback from the ISODA members was very positive in terms of the learnings and knowledge.
The Sponsors also got lots of opportunities to interact and discuss business plans with the partners. A separate sit out area was earmarked throughout the two days for sponsors to meet potential partners and discuss mutual business growth. Also, the list of the participating members was shared with all the sponsors well before the event date, offering greater opportunity to them reach out to the partners and fix up meeting slots during the TechSummit, well in advance.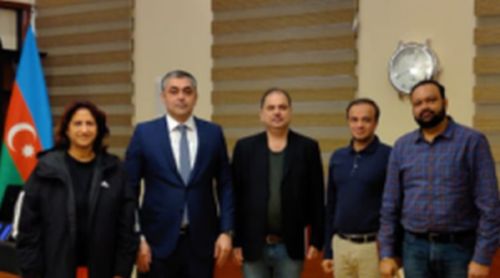 The sponsors got an opportunity to share with the Media representatives their thoughts for India Market and how they would like to propagate their story better through the ISODA Community.
The event saw 115 Channel Partner CEOs from India with 25 sponsors. There were lots of fun and learnings at the event.
Tags :
Baku
channel partners
ISODA
tech distributors
TechSummit
Top Stories